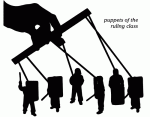 By Ben Elgin, Vernon Silver and Alan Katz
The Iranian officers who knocked out Saeid Pourheydar's four front teeth also enlightened the opposition journalist. Held in Evin Prison for weeks following his arrest early last year for protesting, he says, he learned that he was not only fighting the regime, but also companies that armed Tehran with technology to monitor dissidents like him.

Pourheydar, 30, says the power of this enemy became clear as intelligence officers brandished transcripts of his mobile phone calls, e-mails and text messages during his detention. About half the political prisoners he met in jail told him police had tracked their communications and movements through their cell phones, he says.
"This is a commerce of death for the companies that place this technology in the hands of dictatorships," Pourheydar says. (more on businessweek.com)