Archives by date
You are browsing the site archives by date.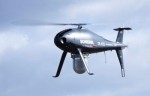 By europolice on 21. Februar 2013
Thales' I-Master radar system has successfully completed flight trials on-board a Schiebel Camcopter S-100 UAS (Unmanned Air System). The flight trials on Camcopter S-100 took place on 7 February 2013 at the Schiebel test facility in Wiener Neustadt, Austria. The flights, each lasting several hours, successfully proved both sensor performance and the stability of data […]
Posted in Drohnen, English, European Police, Militaer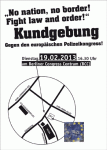 By europolice on 13. Februar 2013
"No nation, no border! Fight law and order!" Kundgebung gegen den europäischen Polizeikongress 19.02.2013, 16.30 Uhr am Berliner Congress Zentrum (Alexanderplatz) Am 19./20. Februar steigt in Berlin wieder der 'Europäische Polizeikongress', mit hunderten selbsternannten Sicherheits­expert_innen aus allen EU-Staaten: Polizist_innen, Innenminister, Geheimdienstler_innen, Parlamentarier_innen und Wirtschaftsvertreter_innen. Es geht um die "Europäisierung der Sicherheitspolitik", also um grenzüberschreitende Poli­zeistrukturen […]
Posted in BKA, Border Control, Datenbanken, Europäischer "Polizeikongress", European Police, Software/ IT, Was tun?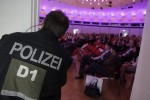 By europolice on 7. Februar 2013
Von Matthias Monroy Unter dem Titel "Schutz und Sicherheit im digitalen Raum" soll am 19. und 20. Februar der diesjährige Europäische "Polizeikongress" in Berlin stattfinden. Als Themenschwerpunkte gibt die Webseite der Veranstalter "Polizei in sozialen Netzwerken, ePolice sowie Ausrüstung und Ausstattung" an. Die Allianz "Polizei und Internet" meint gewöhnlich, dass Verfolgungsbehörden das Netz für zweierlei […]
Posted in BKA, Europäischer "Polizeikongress", European Police, Europol, Kommunikation, Software/ IT
By europolice on 4. Februar 2013
Matthias Monroy Mit der ausformulierten "Solidaritätsklausel" des Vertrags von Lissabon wird den EU-Mitgliedstaaten Hilfe bei "außergewöhnlichen Umständen" im Innern versprochen Die EU-Kommission und die Hohe Vertreterin der Union für Außen- und Sicherheitspolitik haben einen Vorschlag zur Ausgestaltung der sogenannten "Solidaritätsklausel" vorgelegt. Das Papier bezieht sich auf Artikel 222, um den es bei Verabschiedung des Vertrags […]
Posted in Crowd Control, European Police, Militaer, Policing Major Events
By europolice on 3. Februar 2013
Presseerklärung des Arbeitskreises Spitzelklage Heidelberg Am 14. Januar 2013 ging das so genannte In-camera-Verfahren* zu Ende, mit dem die Betroffenen des Heidelberger Spitzeleinsatzes des Jahres 2010 die komplette Freigabe aller Akten erreichen wollten. Auch das Verwaltungsgericht Karlsruhe, das im Rahmen einer Fortsetzungsfeststellungsklage über die Rechtmäßigkeit der Repressionsmaßnahme befinden soll, hatte sich über die Vorenthaltung weiter […]
Posted in Justiz