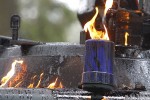 The recent attempt to stop a train carrying nuclear waste to a German storage site prompted a huge police response. And it wasn't just German officers on hand. European police can sometimes cross borders – and they do.

Police launched a massive operation earlier this month to bring a train transporting nuclear waste safely to its destination, as thousands of demonstrators sought to impede its progress.
The operation cost an estimated 50 million euros ($67 million), and authorities in Germany are looking for ways to pass some of the costs on to the protesters.
However, it wasn't just German law enforcement officers protecting the cargo as it headed to the nuclear waste storage facility in the northern German town of Gorleben. Officers from France, Poland, Croatia and the Netherlands were also on hand, in various capacities.
Pictures of one French policeman apparently suppressing a protester by grabbing him around the neck have caused quite a stir in Germany. Christoph Mueller, a lawyer based in Berlin, has filed a complaint against another French policeman in a separate incident that he says he personally witnessed. (more on dw-world.de)