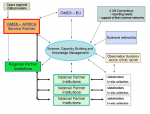 Achieving sustained progress towards development goals in Africa involves careful analysis of environmental changes as well as of the long-term impact of human activities. The GMES programme provides the ideal framework to carry out this type of analysis in a systematic way.
The Global Monitoring for Environment and Security (GMES), an initiative of the European Union and the European Space Agency (ESA), is being developed to provide, on a sustained basis, reliable and timely services related to environmental and security issues in support of users and public policy makers' needs.
This EU programme is now being taken beyond European borders: in the context of the 'GMES and Africa' initiative launched in 2007, African earth-observation capacities are being developed.
A draft Action Plan to help Africa harness the benefits of space systems for sustainable development has been outlined and stakeholders were consulted through the public consultation. The Plan focuses on applications in the following key areas:
Natural disasters: risk reduction with regard to floods, fires, cyclones, volcanic eruptions, tsunamis, earthquakes, and so on;
Food security and rural development: crop monitoring, rangeland monitoring, vulnerability assessment, locusts, water;
Long-term management of natural resources: forest resources, biodiversity, land resources, land cover change, protected area management;
Water resource management: integrated basin management, ground water, water scarcity;
Impacts of climate variability and change: desertification, droughts, water scarcity, health;
Marine and coastal areas: fisheries, integrated coastal zone management, transport and so on;
Conflicts and political crises: disputed territory, vulnerable settlements, conflict resources, land mines;
Infrastructure and territorial development: land planning, urban sprawl, road and water infrastructure, ecological footprint.
The GMES and Africa Action Plan will be submitted at the 3rd Africa-EU Summit, in Libya.
Origins
The idea for the GMES & Africa initiative dates back to December 2007. Meeting in Lisbon, European and African stakeholders decided to submit an action plan on how GMES could help Africa.
Other programmes that will contribute to GMES and Africa
GMES (Europe) programme – some existing services (particularly land-monitoring and emergency response) could benefit users and policy makers in Africa. Their requirements will be integrated into future GMES services, and regional and local capabilities strengthened, so that they can access earth-observation information provided by these services.
EU 7th Framework Programme for Research and Development (FP7-Space) – some FP7 projects begun in mid-2010 will provide useful support for the GMES & Africa initiative and implementation of the action plan.
Existing programmes and projects (AMESD, GMES, TIGER, GEOSS, etc) – once the action plan is implemented, they will harmonise their activities and adapt accordingly. Measures will be proposed to bridge any gaps.