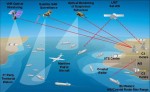 Oceans cover much of our planet and they are difficult to keep under surveillance, with the trafficking of people, unlicensed fishing and piracy adding to the problem. Satellites, however, can help keep the seas safe.

Satellite imagery can be used to locate and track vessels, monitor beaches and ports, and detect unlicensed fishing and illicit oil discharges. In addition, spaceborne receivers pick up identification messages transmitted by all large vessels.
However, not all maritime authorities can access information from satellites at present.
To begin a discussion on how different countries could access satellite-based maritime surveillance, ESA recently hosted a workshop at its centre for Earth observation in Italy.
Some countries already use satellites for surveillance. For example, Collecte Localisation Satellites, CLS, monitors illegal fishing around the Kergulan Islands in the Indian Ocean for the French Navy. The European Maritime Safety Agency operates a satellite-based oil pollution monitoring system in European waters.
Both services are based on the Radarsat-2 and Envisat satellites.
Nevertheless, there is a clear need for wider use of satellites. One possibility being tested in several countries is to combine satellite-based vessel detection with identification information.
"By fusing satellite imagery with standard Automatic Identification System (AIS) information from both terrestrial and space systems, we could get a more detailed picture of what vessels are doing," says Guy Thomas from the US Coast Guard.
"This would allow us to react earlier where we see something suspicious."
"The Collaboration in Space for International Global Maritime Awareness workshop participants included the US, Irish, Italian, French and Japanese Coast Guards, Australian Customs, Italian, US and Canadian Navies, EMSA, Frontex and NATO"
Although satellites already provide useful information, the improved capability from satellites under development was also highlighted at the workshop.
In the near future, ESA's Sentinel-1, Canada's Radarsat constellation, Japan's ALOS-2, Germany's TerraSAR-X and Italy's Cosmo Skymed follow-on missions all offer improved maritime surveillance.
There is also a growing list of satellites carrying AIS receivers, such as the US Orbcomm network and Canada's Exact Earth microsatellites. By 2013, these companies will have at least 25 AIS receivers in space.
While satellites can contribute to monitoring the oceans for illegal activity, no single country can afford to set up a system for maritime surveillance on a global scale.
An approach that fosters international collaboration to exchange and access satellite information is needed.
Captain Leopoldo Manna, from the Italian Coast Guard, summarised, "There are situations, such as piracy, illegal fisheries and trafficking in open waters where conventional techniques cannot guarantee adequate coverage.
"In such situations, satellites can often provide useful information to help optimise the deployment of conventional assets.
"The workshop represents the start of a process by which different organisations worldwide engaged in maritime safety and security can agree on how to ensure systematic access to satellite-based surveillance."
The horizon may still be a distant one for a fully integrated global system, but this first gathering has laid the foundation for collaboration towards a harmonised system for marine authorities to access satellite data.