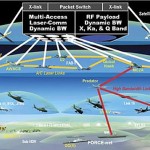 At a conference in Heidelberg, Germany, 19-20 October, senior officials from the NATO Consultation, Command and Control Agency (NC3A) briefed transatlantic industry leaders on upcoming business opportunities for capabilities that underpin NATO's new strategic concept.
The upcoming contract opportunities, amounting to some 1.47 billion Euro in multi-year projects to be launched over the next two years, include investments in satellite communications, cyber and missile defence, and intelligence, surveillance and reconnaissance capabilities. They are focused on enabling the Alliance to counter modern security threats, further the transition strategy in Afghanistan, and undertake missions where and when necessary.
"This is very tangible proof of the Alliance's commitment to the vision laid out in the new Strategic Concept – modern defence that is able to counter complex security challenges," said Georges D'hollander, NC3A General Manager, "Under Secretary General Rasmussen, NATO is pursuing greater efficiency and effectiveness, cutting costs, consolidating its Agencies and reforming its structures, but also investing in state of the art capabilities to protect 900 million citizens from both traditional and modern security threats."
Some of the projects announced include:
• Secure communications to support the training of military police in Afghanistan, as part of the overall transition strategy;
• Advanced communications to support the ISAF mission as NATO transitions to Afghan lead for security operations;
• Cyber and missile defence;
• State of the art satellite communications that will allow the Alliance to mount complex operations where and when necessary;
• Maritime information systems to support counter-piracy and other operations;
• Systems that allow NATO Nations, decision-makers and commanders to rapidly share information, assess and respond to threats.
Most of the projects are scheduled to begin in late 2011 and 2012.
Over 400 senior representatives from companies from Europe and North America attended the event, the fifth such Industry conference organized by the NC3A. This year's conference was organized in partnership with AFCEA Europe's flagship 'Technet' event.
"Our partnership with AFCEA emphasizes the need for broad cooperation, including with Industry, research and academia, in order to effectively and efficiently tackle today's security challenges," said Mr. Kevin J. Scheid, NC3A Deputy General Manager and Director of Acquisition.
NATO C3 Agency (NC3A)
Company or Organisation Portrait:
The NATO C3 Agency is responsible for the Alliance's investment in advanced C4ISR technologies, including cyber and missile defence, as well as intelligence, surveillance and reconnaissance. As part of the Agency reform, in July 2012, it will be merged with other Agencies to form the NATO Communications and Information Agency.
The NATO Consultation, Command and Control Agency (NC3A) is a customer funded Agency and, as a part of the NATO Consultation, Command and Control Organization (NC3O), reports to the NATO Consultation, Command and Control Board (NC3B).
The Agency comprises around 700 staff, of which around 500 are located in The Hague and 200 in Brussels. In 2010, the procurement of NC3A for NATO amounted to some 300 million Euros.
The Agency is organized using a balanced matrix model, with four main areas: the Production area, Sponsor Accounts, Core Segment and Resources Division. The Production area comprises nine Capability Area Teams (CATs) under the Director of Production (DOP) within which projects are executed with each CAT defined according to its area of expertise.
The Agency is the lead NATO body for the acquisition and development of Consultation, Command, Control, Communications, Intelligence, Surveillance and Reconnaissance (C4ISR) capabilities in support of NATO missions and operations.
Company or Organisation Contact:
Mr. Michal Olejarnik
NC3A Communications Manager
michal.olejarnik@nc3a.nato.int
Tel.: +32 (0)2-707 84 40
Source: http://www.defpro.com/news/details/29168/?SID=ffa99ff7dc3e850ce9984529979147d3