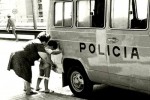 in support of two No Border activists
WEDNESDAY 20 MARCH 2013
Appeal trial of two activists !
Background : during the week of September 26 to October 1, 2010 was held a No Border camp in Brussels, the claims were
No one is illegal
Borders or nations
Equal rights for all
Freedom of movement and installation
Against the capitalist and authoritarian systems that cause forced exile, war and misery
But these claims are not welcome and expressing them even less ! Therefore the State is seeking a way to … to silence and intimidate activists and found two to be charged of rebellion even against any formal proof (the verdict is amazing).
Following their conviction in April 2012 respectively to one year and six months suspended sentence (five years !) during a political-like trial they decided to appeal that verdict. These convictions affect us all !
The way "justice" has mounted its charges is just unacceptable – no need even for evidence …
Their fight is our fight
LET'S SHARE IN SOLIDRITY AND BE NUMBEROUS
MEETING at 8.30 a.m in front of the Palais de Justice in Brussels
(Place Poelaert)
Source: https://bxl.indymedia.org/spip.php?article792&lang=fr