[ibm]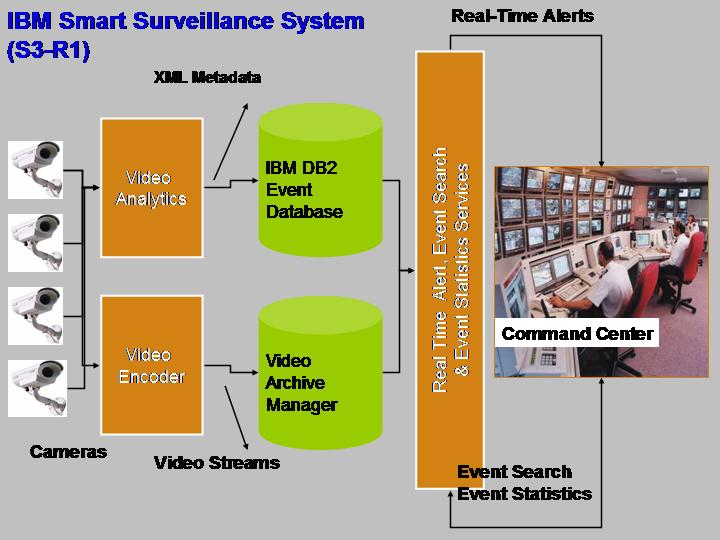 The IBM Smart Surveillance system (S3) is developed by the Exploratory
Computer Vision Group in IBM
T.J.
Watson Research Center. The system is a middleware
offering for use in surveillance systems and provides video based
behavioral
analysis capabilities. Release 1 of the Smart Surveillance System
provides two
components
Smart Surveillance Engine (SSE) which provides the front
end video analysis capabilities.
Middleware for Large Scale Surveillance (MILS) which
provides data management capabilities.

Operational
Capability:
The S3-R1
system draws on some of the Smart Surveillance technologies created by
IBM Research. S3-R1 provides the following functionality.
Web
based Real Time Alerts including Motion Detection, Directional Motion,
Abandoned Object, Object Removal & Camera Move/Blind: User
Designed Alerts: Specified
using simple SQL like interface.
Web
based Event Search using Object
Type, Object Size, Object Speed, Object Location, Object Color, Track
Duration & Compound Queries
Web
based Event Statistics including
Distributions & Moments
Commercial
Availability:
The S3-R1
system is currently available to end customers on a pilot basis.
Business partners can also license the
technology for product development.

Application
Scenarios While being
able to provide real time alarms to "pre-programmed" events is useful,
the ability to search through event
data and understand patterns enables new "security strategies".

Force
Protection:
Understanding long term patterns of
activity and the ability to search through events can help identify
potential vulnerabilities.

Border
Monitoring: While
real-time alarms are useful, reacting to a large number of real time
alarms is infeasible. Understanding patterns of
violations for effective deployment of patrols is critical.

Large
Scale Investigations: In large
scale investigations like the Washington Sniper incident, the ability
to sift through large numbers of
surveillance video tapes to identify commonality is essential.

Smart Surveillance Technology Base:
Object
Detection in the
presence of distraction motion
2D Object
Tracking: Multi-object
tracking with occlusion resolution.
Object
Classification: View
independent object classification.
3D Object
Tracking: Precise 3D
location using standard cameras.
Multi-scale
Tracking: Automatic PTZ
Camera control to track objects.
Multi-camera
Handoff: The ability
to track an object across cameras.
Face
Cataloging: Captures
faces at large distances from the camera.
XML
Metadata Representation for object
and its motion attributes.
Extensible
Engine Architecture for plug and
play video analytics.
Real Time
Event Indexing: Scene events
are instantaneously available for searching in a distributed database
environment.
Web
service interfaces for Event Search & Retrieval
support the
rapid application development of customer specific applications.
Scalable
Backend System: COTS
database technology allows for both distributed surveillance and
scalability.
Research Areas: