More than 100 people were arrested in downtown Oakland on Wednesday
night when a protest turned violent, fueled at least in part by videos
that quickly spread online of a subway policeman fatally shooting an
unarmed man while he was lying on the ground restrained by another
officer.
The case–and the overall intense community response to it–highlights
the impact technology can have on news events. The devices people carry
in their pockets give them the ability to turn what would normally be a
case played out in the courtroom into one in which anyone with an
Internet connection can serve as judge and jury.
BART Police Officer Johannes Mehserle, 27, allegedly shot Oscar Grant,
22, early on New Year's Day after Grant was pulled off a BART train
following a scuffle among riders. Outrage over the incident spread
quickly after videos–taken by onlookers with their cell phone
cameras–started appearing on TV and the Internet.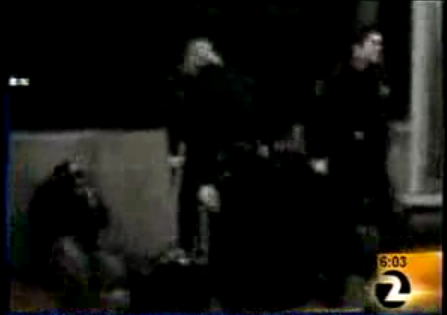 (Credit: KTVU)
Links to the video quickly circulated via e-mail. One of the first videos posted on YouTube
was a KTVU Channel 2 news broadcast, which includes live video clips
and an interview with a woman who took some of the video. (Note: We included YouTube links because of compatibility issues.)
This video, also from a KTVU broadcast, was later posted on YouTube. It appears to show the gun. Another video shows the scene from a different angle.
Much of the video is grainy and views of the scene are sometimes
obscured by people moving in front of the camera. However, there is no
mistaking that the victim was on the ground, subdued by officers and
not appearing threatening to anyone.
"When you watch that video
your stomach just drops out from underneath you when you hear that
gunshot because you know what the end result is," BART Chief Spokesman
Linton Johnson told Channel 7.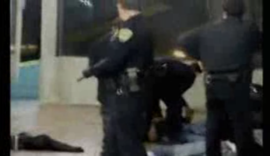 (Credit: Karina Vargas)
What started Wednesday as a peaceful protest against the shooting and
the way it was handled by authorities, turned into a near riot with
protesters setting fire to trash cans and cars, including a police
cruiser, and breaking store windows. There appeared to be no injuries,
but about 105 people were arrested.
Exacerbating the anger among citizens was the fact that the shooting
officer had resigned earlier on Wednesday, before authorities
questioned him for an internal investigation. With no word from the
officer explaining what happened, people have been left to speculate
about the cause of the shooting (one theory is that the officer mistook
his gun for a taser gun) and the mystery has undoubtedly driven even
more people to view the videos.
The raw video on the Web site of KTVU Channel 2,
based in Oakland, has been downloaded more than 500,000 times since it
was posted on Monday, said Ed Chapuis, news director at the station.
The videos have played a critical role in the public interest in the
incident, he said. "You have the incident in question actually on tape.
You've got multiple views of it," he said. "That's what's different and
unusual about the case."
Before broadcasting the video, KTVU officials debated whether it was
appropriate to do so or not and decided that because there were so many
questions raised about the sequence of events during the shooting,
there was a strong journalistic reason to share the video with the
public, according to Chapuis.
"This is a tragedy and there was nothing good about what happened," he
said. "That is what we as journalists should be focusing on."
In the aftermath of the protest, people are again turning to technology as East Bay residents turn to microblogging site Twitter to get updated information about the investigation and subsequent protest activities.
It should also be noted that the shooting victim's family on Wednesday publically decried the Wednesday night violence, calling it an affront to his memory.
Source: http://news.cnet.com/8301-1023_3-10137796-93.html?part=rss&subj=news&tag=2547-1_3-0-20