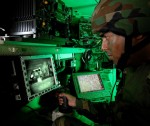 The Systems will be Provided by a Consortium led by Elbit Systems and the Polish Military Communication Institute
Elbit Systems Ltd. announced today that it was awarded a contract valued at approximately $16 million from the Polish Ministry of National Defense to supply mobile multi-sensor monitoring and surveillance systems for the Polish Army. The project is scheduled to be completed in the next year.
According to the contract, a consortium composed of Elbit Systems Land and C4I-Tadiran and the Polish Military Communication Institute, will provide a variety of sensors to be deployed onboard a ROSOMAK 8X8 vehicle. The systems onboard the vehicle will be comprised of a variety of visual payloads, TV, thermal vision systems, motion detection battlefield surveillance radar unit, encrypted communications systems, as well as an unmanned aircraft system (UAS) system. The project will be performed in cooperation with the local Polish industries.
Bezhalel (Butzi) Machlis, General Manager of Elbit Systems Land and C4I -Tadiran, noted: "We are very proud to be selected to perform this technologically advanced project for the Polish Army in cooperation with the Military Communication Institute. Offering innovative end-to-end surveillance capabilities, we are able to provide our customers with cutting-edge Intelligence solutions, and we hope this project will be followed by further projects in Poland and in other countries as well."
About Elbit Systems
Elbit Systems Ltd. is an international defense electronics company engaged in a wide range of programs throughout the world. The Company, which includes Elbit Systems and its subsidiaries, operates in the areas of aerospace, land and naval systems, command, control, communications, computers, intelligence surveillance and reconnaissance ("C4ISR"), unmanned aircraft systems ("UAS"), advanced electro-optics, electro-optic space systems, EW suites, airborne warning systems, ELINT systems, data links and military communications systems and radios. The Company also focuses on the upgrading of existing military platforms, developing new technologies for defense, homeland security and commercial aviation applications and providing a range of support services.
Source: http://www.itnewsonline.com/showprnstory.php?storyid=135506