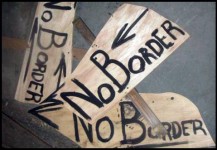 Citizens' Protection Minister Christos Papoutsis has told Kathimerini that he is considering mobilizing the armed forces to boost the efforts of the European Union's border-monitoring agency Frontex to curb a relentless influx of illegal immigrants into Greece.
In an interview with Kathimerini, Papoutsis said the possibility of armed forces personnel joining Greek police and Frontex staff at the border was under discussion. "I am in constant contact and cooperation with Defense Minister [Evangelos] Venizelos, seeking the best solution to restore our country's prestige in the eyes of the international community."
The minister added that the mobilization of Frontex guards at the Greek-Turkish border early last month was a practical indication that illegal immigration is "a European problem which demands European initiative and support for Greece."
Questioned about the fight against terrorism, Papoutsis said that the six terrorist suspects arrested recently are believed to have connections to older organizations, though he did not give details.
Source: http://www.ekathimerini.com/4dcgi/_w_articles_politics_0_17/12/2010_121863