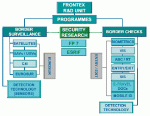 The new year has seen the start, on January 1st, of the project PERSEUS ("Protection of European seas and borders through the intelligent use of surveillance"), coordinated by INDRA Sistemas S.A (ES), with 29 partners, including the Spanish Guardia Civil, the French Minister of Interior, the Portuguese Air Force, the Hellenic Coast Guard and Minister of Defence, and the NATO Undersea Research Centre. This ambitious project has duration of 54 months, its costs are estimated as 43.7 MEUR , with 27.8 MEUR EC contribution. PERSEUS will validate its target vision through two real-life demonstration campaigns in the Western and Eastern Mediterranean (for implementation in 2013 and 2014, respectively).
PERSEUS represents the first demonstration project implemented by the FP7 Security Research Theme. Demonstration programmes represent a novelty for the EU RTD Framework programmes. They are aimed at large scale integration, validation and demonstration of novel security systems of systems, and represent European flagships, providing a federative frame to coalesce research in areas of significant European interest. PERSEUS is expected to deliver tested, demonstrated and validated recommendations. In PERSEUS five specific exercises will implement missions, defined, in cooperation with the EU border agency Frontex, under the context preventing irregular migration and drug trafficking, and specific building blocks of the target vision will be tested.
PERSEUS is an example of how EU Research and Development activities are set into the present political context. Intelligent surveillance and enhancing border security is one of the four mission areas set for the FP7 Security Research by EU Council and Parliament. In particular, PERSEUS is meant to support the implementation of the European Border Surveillance System ('EUROSUR'), in order to:
Increase internal security of the EU by preventing cross-border crime;
Reduce the number of irregular migrants entering the Schengen area undetected;
Diminish considerably the unacceptable death toll of migrants at sea.
The reality today is still essentially one in which the maritime borders are monitored by each Member State (MS), and discrepancies exist between surveillance strategies, tools, techniques and regulations at MS level, hindering the establishment of a coherent European strategy. A number of challenges are to be faced, including the need to improve the capability of authorities to detect, identify, track and intercept vessels, including small/fast boats, as used for irregular migration and cross-border crime, across the 90.000 km long European coastline.
The PERSEUS scope is three-fold:
focussed research on complex security missions (e.g. prevention of irregular migration and serious crimes at the external borders of the EU Member States),
validation and demonstration of new technological solutions (integration of existing legacy systems within a trans-national network and implementation of innovative surveillance tools, ensuring an uniform and high level surveillance of EU maritime external borders),
involvement of institutional end users to progress in operational cooperation among Member States.
The PERSEUS project is expected to provide and test:
Transnational collaboration between users;
Functional developments – to extend surveillance coverage beyond current monitoring capabilities, integrating systems and platforms;
Organisational improvements – to define and implement at transnational level the sharing of information in terms of content (what), users (who) and processes (how);
Technological enhancement of the capabilities for carrying out control tasks (detection, identification, tracking and interception);
Economic estimate of the costs for the continued development of border surveillance systems and national coordination centres;
A vision for procurement – to clearly identify priority aspects, such as standards for joint acquisition and management of platform/sensors.
PERSEUS will be presented to the public in Madrid on February 2nd at the central siege of Guardia Civil (Calle Guzman el Bueno 110) under the chairmanship of D. Francisco Javier Velázquez López, Director General Spanish Police and Guardia Civil.
Source: http://ec.europa.eu/enterprise/newsroom/cf/itemlongdetail.cfm?item_id=4841&lang=en&tpa=0&displayType=news