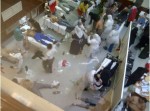 Last night in Mayfair, activists attacked the offices of the multinational investment bank, First London Securities plc, damaging several of its windows.

This target was singled out for having recently acquired Bahrain Capital International plc. It was attacked by ordinary people in the UK acting in solidarity with the Bahraini people in their struggle for social and economic justice and freedom from their oppressive, Saudi-backed monarchy.
We are sickened by the brutal repression of protestors, in particular the assaults on hospitals and medical workers and reports that ambulances were used by security services to fire on Bahraini citizens.
If we see a similar response to future protests in Bahrain we will react with a sustained and uncompromising campaign against Bahraini and Saudi Royal investment companies.