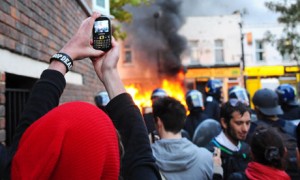 Ministers expected to row back from David Cameron's demand that suspected rioters be barred from websites

Josh Halliday
Facebook and Twitter are preparing to stand firm against government ministers' calls to ban people from social networks or shut their websites down in times of civil unrest.
The major social networks are expected to offer no concessions when they meet the home secretary, Theresa May, at a Home Office summit on Thursday lunchtime.
Ministers are expected to row back on David Cameron's call for suspected rioters to be banned from social networks, such as Twitter and Facebook, following the riots and looting across England a fortnight ago.
The home secretary will explore what measures the major social networks could take to help contain disorder – including how law enforcement can more effectively use the sites – rather than discuss powers to shut them down. (more on guardian.co.uk)