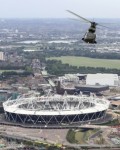 The largest ship in the Royal Navy, HMS Ocean, is to be stationed in the Thames to provide back up for the Olympics, along with 13,500 members of the Armed Forces.
The carrier HMS Ocean will be used for the Olympics

By Duncan Gardham

The Ministry of Defence said there would be 7,500 military personnel helping with security at Olympic venues, despite a pledge by Scotland Yard that they would deliver a "blue games" keeping the military presence to a minimum.
The numbers are thought to have been drafted in after security chiefs had to massively revise the number of security personnel that will be needed.
HMS Ocean, which has recently returned from providing support for the Libyan campaign, will provide logistics support, accommodation and a helicopter landing site.
Typhoon jets will be stationed temporarily at RAF Northolt in London and ground-based air defence capabilities will also be deployed to protect British airspace.
In total the Ministry of Defence expects to contribute up to 13,500 personnel, including 5,000 personnel to support the police with capabilities including explosive ordnance disposal teams, military working dogs and Royal Navy support to maritime policing.
There will also be a 1,000-strong unarmed contingency force for deployment in the event of an Olympics-related civil emergency and another 1,000 personnel to provide logistics support.
The total includes up to 7,500 personnel who will help with security at venues.
Philip Hammond, the Secretary of State for Defence, said: "Next year's Olympic and Paralympic Games are once-in-a-generation events for the UK. We want them to be secure, so that all those competing and attending can enjoy the Games for the celebration of sporting achievement and cultural celebration that it is."
He said he had no doubt that the forces personnel would do a "fantastic job" and added: "I look forward to their professionalism and agility being on show on the world stage once again."
The Ministry of Defence said the games would not divert the Armed Forces from protecting Britain and from current operations in Afghanistan and elsewhere as well as "the ability to respond to the unexpected."
They said the defence contribution to London 2012 was on a similar scale to military deployed at other recent Olympic games.
A statement added: "The Government is clear that the Games should be a peaceful celebration of sporting achievement and a cultural celebration – not a security event."
Assistant Commissioner Chris Allison of the Metropolitan Police, the National Olympic Security Coordinator, said that delivering a safe and secure games would only be achieved through a range of different agencies working closely together.
He said the security operation would be the police service's biggest ever peacetime operation.
"Our relationship with the Armed Forces has developed over a number of years and we have huge experience in working with them to deliver major events," he added. "Their support to our operation is built on these tried and tested practices."
HMS Ocean is an amphibious assault ship, designed to deliver troops into a war zone by helicopter or by landing craft.
The ship has six helicopter operating spots on the flight deck and the hangar can hold many more aircraft.
The ship has its own Royal Marine assault squadron, 9ASRM, and also carries four landing craft capable of carrying troops and vehicles.
HMS Bulwark is the Flagship of the Royal Navy. She can carry 256 Royal Marines with their vehicles and combat supplies, and this can be swollen up to 405 troops.
Source: http://www.telegraph.co.uk/sport/olympics/news/8958712/Military-to-help-out-with-Olympic-2012-security.html