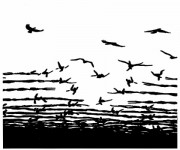 Frontex and representatives of the Nigerian Immigration Service signed a working arrangement at Frontex's Warsaw HQ on January 19. The Federal Republic of Nigeria was represented by Mrs. Rose Uzoma, Comptroller-General, Nigerian Immigration Service, who signed the working arrangement. Frontex was represented by Executive Director Ilkka Laitinen. Though signed by a representative of the Nigerian Immigration Service, the arrangement extends also to other Nigerian authorities and agencies involved in border and migration management, including the Nigeria Police Force and the National Agency for the Prevention of Trafficking in Persons (NAPTIP).
Ilkka Laitinen said after the signing ceremony: "It gives me great pleasure to conclude this working arrangement with such an important partner in the development of integrated border management. The mutually beneficial exchanges of information and expertise are an important element of Frontex's approach. We look forward to working together to promote gradual development of a sustainable partnership."
Emphasising full respect of human rights by both parties, the agreement includes provisions for the maintenance of structured dialogue as well as for the establishment of contact points in the Federal Republic of Nigeria to develop communication and information sharing in the field of border management activities of the Nigerian authorities and their Member State counterparts. Specific exchanges between Frontex and the Nigerian authorities are foreseen with Frontex's Risk Analysis Unit, with the participation of the competent Nigerian authorities in relevant meetings. Capacity-building measures may also be undertaken with the aim of enhancing integrated border management, including in the areas of training as well as research and development activities. Representatives of the relevant Nigerian authorities may also be invited to participate in Frontex Joint Operations, in an observer capacity, to be decided on a case-by-case basis by the Executive Director of Frontex, as well as having the possibility of seconding national Border Police Officers to Focal Point Offices at the external borders of the Member States of the EU. Development is also foreseen in cooperation with Frontex-coordinated joint return operations as well as in Pilot Projects and the field of operational interoperability. The working agreement enters into force the day after its signing.
This is the fifteenth Working Arrangement Frontex has signed with the competent authorities of third countries, and the first to be signed since the Agency's revised regulation came into force on December 12, 2011. The Agency has previously formalised cooperation with the authorities of countries including Albania, Belarus, Canada, Cape Verde, Croatia, the Former Yugoslav Republic of Macedonia, Serbia, Bosnia and Herzegovina, Georgia, Moldova, Montenegro, the Russian Federation, Ukraine, and the United States of America.
Source: http://www.frontex.europa.eu/newsroom/news_releases/art118.html