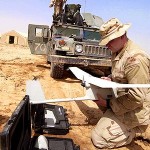 They are deadly, hard to detect and fast becoming one of the most sought-after weapons in the air defence industry.
Global demand for unmanned aerial vehicles (UAVs), better known as drones, is heating up as armed forces invest in new systems to boost their ability to carry out reconnaissance and strikes without putting soldiers' lives in danger.
Propelled by a rise in Asian defence budgets, annual global spending on UAVs is forecast to almost double from the current $5.9 billion to $11.3 billion over the next decade, according to US-based defence research firm Teal Group.
The Asia Pacific is the second largest buyer after the United States. (more on thenews.com.pk)