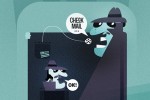 With the support of Europol, Spanish National Police have arrested four persons in a coordinated operation against hacktivists claiming to be part of the Anonymous collective.

The operation, named Operation Thunder, is the result of an investigation which began in June 2011 against a group of hackers responsible for a number of DDoS (Distributed Denial-of-Service) attacks, web defacements and publication on the internet of Spanish police officers personal information.
One of the suspects arrested, nicknamed "Thunder" was allegedly responsible for the administration of some of the secure communication channels used by Anonymous. The servers used for this purpose were hosted by companies located in Czech Republic and Bulgaria, although they were remotely controlled from Spain.
Once the links with other Member States were discovered, investigators from the Spanish National Police Cyber Crime Unit (BIT) contacted the Europol Cyber Crime Centre in order to coordinate the actions.
Immediately after the first contact from the Spanish police authorities, Europol acted as a hub of information, facilitating the exchange of communications among the police investigators assigned to this case in their respective countries.
This direct and quick response from Europol Cyber Crime Centre allowed in a very short period of time, the retention of the data contained in the servers hosted in Bulgaria and Czech Republic. Once the judicial authorities in these countries had approved the seizure of the servers, experts from Europol Cyber Crime Centre were deployed to Bulgaria and to Spain to provide on-the-spot support with the simultaneous arrests, house searches and disruption of the servers.
The operation also has links to South America which are being investigated by Spanish National Police and Interpol. The Europol Cyber Crime Centre will continue to follow the developments of the related investigations, to analyse the evidence seized and the results of the operation, in order to ensure the best outcome.
Source: https://www.europol.europa.eu/content/press/hacktivists-arrested-spain-1357