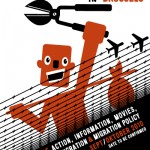 Brussels, 9 March 2012
7431/12
NOTE from: the Belgian, the French, the German, The Netherlands, the Austrian, the Swedish and the UK delegations

The Ministers responsible for migration of Austria, Belgium, France, Germany, The Netherlands, Sweden and the United Kingdom, with the Danish EU Presidency as observer, met in Brussels on 7 March 2012 to agree on measures regarding matters of mutual interest in the field of preventing illegal immigration with a special focus on secondary migration movements.
One of the major achievements of the EU is the freedom of movement and the guarantee of security within the Schengen system, based on mutual trust between Member States.
Insufficient management of external borders and lack of compliance with the existing acquis are a serious threat both to the Schengen system and to the confidence of European citizens in management of migration at national and EU levels. It is therefore of utmost importance that in the spirit of solidarity, all EU Member States live up to their responsibilities by ensuring a functioning management of the external borders in line with the Schengen acquis, as well as a functioning national asylum system in order to guarantee this area of freedom, security and justice in the long run. In this perspective, it is of the utmost importance that the authorities in Member States that are responsible for the execution of legislation under the Schengen acquis are not vulnerable to elements that undermine the rule of law.
The European Union and its Member States are confronted with major challenges in the field of asylum and migration. The creation of a Common European Asylum System and a common framework for genuine and practical solidarity, effective action against illegal immigration and the strengthening of the Schengen area, as well as a renewed external migration policy framework under the Global Approach are currently among the priority issues on the European agenda. In this context, secondary migration flows, following illegal entry in the EU, represent a particular challenge. (pdf at euro-police.noblogs.org)