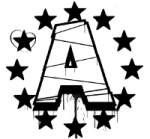 This is the story of an infiltration. For seven years, the English detective Mark Kennedy posed as a radical leftist throughout Europe. In France, he provided the DCRI with information about the people placed under investigation in the case of Tarnac.
In January 2011, a tall blonde man, with tattooed arms, a ponytail and little squinting eyes, made it to the headlines in Great-Britain. Mark Stone is an international leftist activist – but you can't judge a rebel by his tattoos: under the alias Stone hid the policeman Mark Kennedy.
From 2003 to 2010, Stone / Kennedy infiltrated British and European radical left groups. He lived undercover among environmental, anti-globalization, anarchist and antifascist activists, sharing their meals, attending every festival and demonstration they organized. And sometimes their beds. Eventually, they discovered his treachery – but it was too late, the police already knew everything they had done and said for the past seven years.
Stone also worked in France, even though his activities remain unknown, and he even seems to have played an important role in the case of Tarnac. He acted as an agent provocateur in several European countries, which sparked off many a scandal.
The infiltration started in 2002. Mark Kennedy had been a London policeman for eight years when he joined the National Public Order Intelligence Unit, an English agency that monitors "domestic extremists" (anarchists, animal advocates…).
His mission started in August 2003: he was supposed to immerse himself in radical environmentalist groups to ultimately gain their trust. He put his shorts on, tied his long hair and went alone to the place where the green group Earth First had set up camp. There, he made friends, offered to help them and support their cause. He even gave them money, and told them he earned a living abroad, as a professional mountaineer.
In 2009, some activists begin to distrust him
He debated, attended protests, danced and drank with British environmentalists. Nobody had doubts about this zealous activist, who was always ready to hang a banner on a power plant or to drive his friends to various action sites in his blue pick-up. According to a report established by the British police, he travelled for seven years through eleven countries, infiltrated and spied on in international meetings, "climate camps" alternative villages, counter-summits…
But in 2009, despite six years of perfect integration, some activists began to distrust him. In April, when twenty-seven environmentalists were arrested for having planned to invade a coal plant, Mark was the only one not to be prosecuted. In October 2010, his girlfriend – an activist – found a passport bearing the name of Mark Kennedy in his bag, and confided in her comrades.
Together, they investigated and found documents which confirmed that he used a false identity, and understood that their friend was a policeman. One morning, in a house in Nottingham, six people interrogated him for several hours, until he eventually confessed. They let him go but informed
A Foot in the case of Tarnac
What damage has the spy caused? Throughout the period during which he pursued his activities, European police forces coordinated themselves. They shared a lot of information about the activists' travels around the world, set up impregnable safety devices at the time of counter-summits, kept a closer eye on movements which were judged to be potentially destabilizing or of a terrorist nature. As a clandestine piece of this plan, Kennedy kept watch on German, Icelandic, Italian, Spanish and French militants.
And thus he put a foot in the case of Tarnac. Here is a summary of the November 2008 events: the French anti-terrorist police launched a raid on a farm in Tarnac, Corrèze, and arrested twenty people – some from the farm and some from other towns – suspected of having plotted in order to undermine the state by sabotaging railway lines. Ten of them were charged for criminal conspiracy in connection with a terrorist enterprise.
In April 2008, when the prosecution opened a preliminary investigation as regards the Tarnac group, they had very few elements. They had at their disposal the reports established by the Renseignements Généraux (RG / French Central Directorate of General Intelligence) about some of these activists. In these files, there were several pieces of information obtained by Mark Kennedy, who also worked for the French police. The agent had met, at least three times, the young people from the Tarnac group. Each time, his comments were reported in the criminal history file, which was drawn up on the alleged plotters. "In our opinion, it is highly likely that he has played a very important role," said Joseph Breham, one of the lawyers of the indicted people.
Stone and the inhabitants of Tarnac met for the first time in February 2007 in Warsaw, Poland. One to two hundred activists from across Europe gathered in a public hall on a Friday, to decide on actions to be taken in respect to the G8 in Heiligendamm, which was to happen in June.
A 30 years old autonomous French man participated in this gathering. He described the premises: "It looked like a social centre. We were in a room where concerts sometimes took place." Nothing secretive about it: all the debates are advertised on posters and on the alternative Website Indymedia. "It was rather open, said our witness, nothing like a clandestine black bloc." Among the anti-globalization crowd, there were activists from the Dissent! Network and Die Linke (the equivalent of the German Left Party) supporters, who happened to be five people from the "Tarnac group.
The strategies relative to the different ways to protest against the G8 summit differed. "Since Seattle and Genoa, we always have this same debate: should we go near the red zone, block access routes to the summit, or do something else?" European police forces, who were accustomed to handling summits each year, had reinforced their security measures. It had become increasingly difficult for militants to come close to the scene, so the five French people from Tarnac came up with a plan B: burst in Hamburg or in Berlin by surprise, far from the summit, where the police have not been deployed as a precautionary measure. In the room, Mark Stone, who had come with English environmental activists, was listening.
"Our only link with Poland is this meeting."
A year later, in June 2008, the RG administration handed in to the Minister of the Interior a confidential defence report (published in March 2012 by Mediapart) entitled "From the anti-CPE protest movement to the creation of a pre-terrorist international network: a glance on the French and European ultra-left groups". In this report, three people from the Tarnac group are mentioned, in black and white, as having participated in the Warsaw meeting. The document refers to them as the "first circle" of an "informal ultra-left group of an autonomous type", whose members were preparing violent actions across Europe.
At the same time, the French police called for the opening of a preliminary investigation into the Tarnac group. In their application to the prosecutor, the policemen expressed their concern about the "anarcho-autonomous circles' international meetings", and as a first example, cited Poland.
For the indicted people from Tarnac, Mark Stone has told the French police they would be in Warsaw, that's for sure. One of them explained:"The beginning of the police investigation had been based on our alleged relations with foreign groups. Our only link with Poland is this meeting, to which Stone attended. Other informants might have told the police we were in Poland, but this has happened repeatedly: every time we met Stone, pieces of information about us ended up in police files." And he can remember the undercover cop:"You just had to see him once to remember his face. He had a squint, he was a little older than most participants, and spoke English amongst Germans and Poles"
"He had chosen to live with us, he could not be detected!"
Joel*, a French activist from the Dissent! Network, who played an active role in the organization of counter-summits, attended the meeting in Warsaw, and spotted Stone there, for he had already met him during the preparation of the Gleneagles counter-summit in 2005.
"I thought Mark was one of the people who had created Dissent! in England. I met him in a squat that he and some of his friends had opened up in London. I have never really talked to him ; he wasn't easy to approach : he was very "British", he kept to himself."
When he was exposed four years later, in 2010, Joel could not believe it. "To avoid being infiltrated, it is said that one must know people quite well. But he had chosen to live like us, had stayed with us for years, he could not be detected! No one had raised any doubt about him."
Undetectable and undetected; Mark Stone had made his nest in various small circles of activists who thought they were cautious enough. In January 2008, a year after the meeting in Warsaw, he was in the office of a New Yorker activist woman in Manhattan, with a friend of his, an American anarchist who lived in England. Another American guy, a Japanese man living in the U.S. and two French people – Julien Coupat and his partner Yldune Levy, who were on vacation in New York – joined them. The only person they knew was Mark's American friend, who had invited them to hang out with he and his friends.
"They are mates of mates from different countries, who obviously share common interests, meet in a place and discuss for a few hours, everyone does that", explained a close friend of Julian Coupat What memories do they all keep from Mark Stone ? "With his tattoos and piercings, he looked normal, like a fish in water", said one of them.
According to this witness, the undercover cop had explained that he had come to New York "to see his brother". During the meeting, Julien Coupat jot down a few notes in his notebook, and especially scribbled the name: "Mark".
A few days later, Julien Coupat and Yldune Levy returned to France; they crossed the United States / Canada border illegally, into the wild, far from the customs. Why? To enter the United States, they were required to possess a biometric passport, and therefore provide fingerprints. As they refused to do so, they passed through Canada, where fingerprinting was not required, by crossing the border through the woods.
During the outward trip, no problem. During the return one, some of their American comrades drove them as close as possible to the border, then let them cross the border on foot and picked them up on the Canadian side. But before they could meet, they were controlled by Canadian policemen who found Julien Coupat's backpack, with his driver's license, his notebook and a few pictures of Times Square. Understanding that the French man had probably crossed the border illegally, the Canadian policemen seized his luggage (which he will get back later).
So who told the RG about the presence of the two French people in Manhattan ?
Four months later, in France, the Sdat (Sous-division antiterroriste / Subdivision anti-terrorist police) requested that the prosecutor open a preliminary investigation into the Tarnac group, whose members had not been arrested yet. The anti-terrorist police substantiated its request by portraying a "clandestine anarcho-autonomous structure maintaining conspiratorial relationships with foreign activists who share the same ideologies".
To prove it, the police mentioned Julien Coupat's and Yldune Levy's trip to the U.S, their smuggling through the border and their participation in a "gathering of American anarchists in New York". They also cited an incendiary device thrown against a U.S. Army recruitment centre in Times Square. The police never found out who was guilty. However, the American police discarded the participation of French people in the attack, since they had already left the United States.
In their letter to the prosecutor, the Sdat officers maintained that the RG had provided them with these pieces of information. So who told the RG about these two French people who attended an anarchist meeting in Manhattan? The indicted people confirmed that their suspicions had fallen on Mark. One of them added: "The Americans who attended this meeting have been harassed by the police, so they cannot be the ones who notified the French police. Which leaves us with the Japanese activist and Stone. Given what we know about him now, I infer that Stone was the informant."
At the right place and time. During the summer 2008, three months before they were arrested, some inhabitants of Tarnac saw the arrival of two visitors in their farm. It was Mark Stone and his American mate, the one who was with him in New York. A friendly visit – militant tourism.
"During the summer, plenty of people visit Tarnac, explained someone who lived in the farm "du Goutailloux", which has been turned into a place of rendezvous and a congregate housing, visitors come and go, stay for two days or two weeks. They sleep in tents or at people's places. If there is some work to be done, some volunteers participate, others swim, read, cook, walk, or watch movies. Stone has stayed there, just like hundreds of people over the past few years. I don't remember anything about him, except that he was there. He was not a mate, and he was never clinging on to us."
"Once again, Stone was among us and the police received a piece of information"
In the end of July, Mark Stone was camping in Tarnac. In Paris, an anti-terrorist policeman drew up an official report:
"The present day, [we] are notified, by a source who requested anonymity, that a key member of the anarcho-autonomous movement, of Italian origin and active at European level, is likely to go, on the 30th of July, 2008, in mid-afternoon, from Paris to the train station in Limoges (Haute-Vienne), and be received there in order to meet the designated Julien Coupat."
This Italian man, whom the police considers as a "key member of the movement", is called Marcello Tari. He is an independent researcher, and the author of a book (which was published in France) about the Italian autonomous movement in the 70's.
Our witness from Tarnac does not think this is a coincidence : "Once again, Stone was with us and the police received a piece of information. The other activists who stayed in the farm did not attract the informant's attention, but Marcello Tari did. Tari was at the same G8 than Stone, who may have spotted him at the time: like Stone, Tari is a little older than average."
What were the links between Mark Stone and the DCRI (Central Directorate of Internal Intelligence, following the merger of the RG and the DST)? In February 2011, The French magazine L'Express published a new piece of information about Stone's activities in France. Throughout a short article, the magazine argued that he had informed the French police about the case of Tarnac: "It is partly thanks to him that the DCRI was able to reconstruct Coupat's travels abroad." No word added.
A month earlier, Stone had given a hint to the British newspaper The Daily Mail: "I would never have been abroad without my superiors' and the local police's consent."
His explanations were consistent with those from the English police inspection report released in February 2012. According to the report, "Mark Kennedy visited or served in eleven countries, including fourteen visits to Scotland, on more than forty occasions. The National Public Order Intelligence Unit (accountable for Stone – editor's note) used to conclude agreements with host countries regarding Mark Kennedy's travels abroad."
A few days after the report was submitted, the Home Office (equivalent of the Interior Ministry) developed: "All of Mark Kennedy's movements were authorized by the United Kingdom, with the agreement of the States concerned and the support from the host nation. (…) The travel authorization was negotiated and facilitated by the appropriate network of liaison officers." Host country agreement, that is to say from France and its authorities. It will be hard to find out more.
At Scotland Yard, in London, no one wanted to tell us anything: "We do not share information about undercover officers, whether they are still on a mission or not." In Paris, the DCRI refused to answer our questions. When we contacted Stone in September 2011, he said he was ready to testify: He answered us by email: "I might want to meet you and talk about your article." But ultimately, he never followed up.
"A foreign undercover cop is more trustworthy than a snitch"
A police lieutenant, who requested to remain anonymous, told us about Mark Stone's collaboration with the DCRI. He explained that a French officer in charge of the anti-globalisation movements and counter-summits, within the Dissent and Violence Unit of the RG, processed the information Stone provided.
Our source added that in early 2007, the officer showed his colleagues the photograph of a man posing in front of a tent, and described him as an undercover English detective with whom he worked. His colleagues were happy to learn about it: "A foreign undercover officer is a source of high quality", said the lieutenant, "more trustworthy than a snitch: he is not afraid to betray his friends, he goes wherever he is asked to go and focuses on whatever he is asked to focus on." According to the police, Mark Stone had two ways to inform the French officers.
"Either he met with an officer from the Intelligence Processing Unit, who passed off his information to the Dissent and Violence Unit, or he sent his reports to his superiors in England, who themselves transmitted useful pieces of information to France through the International Relations Division of the RG."
Some information suggest that Stone would also have informed the DST (Direction de la Surveillance du Territoire / Directorate of Territorial Surveillance), and this time, the man who maintained that was a senior official of the interior ministry of the time, who closely followed the case of Tarnac.
"A DST officer told me that Mark Stone informed them. According to him, the British secret services warned the DST that their officer was working on French territory. As a courtesy, they asked the DST if they wanted to use his information. A French desk officer from the counter-terrorism branch was assigned to him. He briefed him on a regular basis."
What was Stone talking about to the French officer ?
"According to my contact at the DST, Stone was seen as a brilliant expert in the field of European ultra-left movements. For the French services, since 2005 or so, these movements constitute a new kind of terrorist threat, and with regard to terrorism, there is no insignificant information."
At the time, any information about the Tarnac activists' trips abroad had the potential to strengthen the suspicion of a violent and extremist conspiracy.
"In 2008, the DCRI needed a founding act to prove they were efficient in the field of counter-terrorism. Alain Bauer and Michele Alliot-Marie had concurred with the possibility of a far-left attack on French soil. The case of Tarnac provided them with the opportunity they were looking for to strike a great blow."
"A serious breach of fair trial standards"
For William Bourdon, one of the Tarnac group's lawyers, Mark Stone's contribution to the French investigation is problematic.
"If it turned out to be true, this would be as serious as the telephone tapping carried out in Tarnacbefore the legal proceedings. The way the police obtains evidence should be supervised. The notion of terrorism is misguided in order to obtain pieces of evidence that couldn't be used in the context of other cases. Intelligence agencies probably have a dossier that is much thicker than the legal file, but it was not disclosed to the defence lawyers. This is a serious breach of fair trial standards."
In 2010, after the indictments in the case of SNCF, Stone kept on hanging out with the Tarnac crowd's close friends. He spent several days in Germany at an anti-nuclear activist's place, who was suspected of having committed acts of sabotage on the railway tracks in her country several years earlier, and knew Julien Coupat. Thierry Fragnoli, the investigating judge, was already interested in the Tarnac group's links with German activists.
In the end of 2010, Stone sent an email to the American anarchist who had put him in contact with the French group. According to one of the people indicted in the case of Tarnac, Stone questioned his friend about the French group's projects concerning the G8 in Deauville, which was to take place in May 2011. The American man, who does not want to hear about this story any more, never had the chance to reply: a few days later, Mark Stone was unmasked.
In the other European countries where Stone worked, the affair sparked off a scandal. In England, his role as an agent provocateur, which had been established by the courts, caused the cancellation of two activists' trials. The English police underwent eight different investigations about Stone / Kennedy, bringing about reforms which affected the organisation of the units.
Since the policeman was accused of having been involved in sex and love affairs with some activists, unbeknownst to his superiors, this subject is all the more sensitive. "Something went very wrong", said the British Home Secretary. Not to mention that by giving rise to distrust among activists and journalists, the case of Kennedy allowed them to expose eight other undercover police officers in extreme left circles.
Germany, Ireland, Iceland
In Germany, a country where Stone used to live for long periods with anti-fascist and anarchists activists, the parliamentary Left peppered the government with questions: Did they know about it? Had Stone broken the law? Was he backed up by the police? The government refused to answer the MP's questions.
On the 26th of January, 2011, the British newspaper The Guardian revealed – and was not disproved – the contents of a camera meeting at the Bundestag. Jörg Ziercke, the head of the Federal Police, said Stone was invited to Germany to infiltrate the anti-fascist movement. Between 2004 and 2009, he worked under contract for three Landers, during a total of five visits. The English agent has committed at least two felonies, including arson, but the charges were dropped. The head of the German police explained: "The police can only strike at organized and conspiratorial international networks by acting at global level in a conspiratorial way."
In Ireland, a Senior Labour asked five times the Minister of Justice to clarify the agent's activities on Irish territory. Along with other activists, Stone allegedly attacked Irish policemen during an EU summit in Dublin.
Finally in Iceland, the Minister of the Interior opened an inquiry. Stone had allegedly established contacts between activists and taught them nonviolent resistance and road-blocking techniques. The case sparked parliamentary debates, brought into question police investigations or led to new trials all over the world. Except in France – though Stone had attended three preparatory meetings for the NATO counter-summit in Strasbourg in 2009. And no one wonders if back there, as in other European cities, the undercover British agent has encouraged violence.

Camille Polloni
Translation: Élodie Chatelais