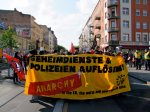 Gestern fand laut einem Protokoll der EU-Ratsarbeitsgruppe "Terrorismus" in Den Haag eine Polizeikonferenz zu "Anarchismus" statt. Das Treffen wurde von der europäischen Polizeiagentur EUROPOL organisiert.
Anlass war ein zweitägiges Treffen jener 20 EU-Mitgliedstaaten, die sich an der Europol-Datensammlung namens "Dolphin" zu "Terrorismus" und "Extremismus" in der EU beteiligen. Etwas mehr Hintergrund erläuterte hierzu kürzlich das Bundesinnenministerium.
Ein Extra-Treffen widmete sich militanten linken Bewegungen: Neben Inputs über Aktivitäten der italienischen "Federazione Anarchica Informale" (F.A.I.) standen auch Aktivitäten gegen "Schienennetzwerke" und das "No Border-Netzwerk" auf der Agenda.
Wegen der Konferenz in Holland (übrigens am italienischen Jahrestag des Sieges der Partisanen über den Faschismus) organisierte die Gruppe "Out of Control Berlin"eine Demonstration in Berlin. Auch in Den Haag vor dem brandeuen, riesigen Hauptquartier von Europol wurde eine öffentliche Kundgebung abgehalten. Europol will zunehmend operative Kompetenzen erhalten. Mehr dazu im sogenannten "Europol Review". Die Polizeiagentur hat gestern anlässlich des Treffens der "Dolphin"-Datei gestern den neuen jährlichen "Trend Report" zu Terrorismus und Extremismus veröffentlicht.
Die Lektüre gibt neue Hinweise zu den Inhalten des gestrigen Treffens: Dort wird weiter gegen die beschriebenen Bewegungen gehetzt. Im Bericht heisst es zur F.A.I.: "In 2011, left-wing terrorist groups claimed responsibility for attacks in which explosives were sent in letters, targeting several public and private institutions and companies in France, Greece, Germany, Italy and Switzerland".
In den letzten Jahren werden die Proteste gegen sinnlose Großprojekte wie Flughäfen, Hochgeschwindigkeitszüge zunehmend größer. Dies ist Europol ein Dorn im Auge: "In 2011, anarchists joined the ranks of protesters in France and Italy during demonstrations against the construction of the future airport of Notre Dame des Landes in Nantes, and the high-speed railway line linking France and Italy in Val di Susa".
Zum Widerstand gegen "Schienennetzwerken" wird geschrieben, dass es sich auch um Anschläge in Brandenburg handelte: "Several improvised incendiary devices (IIDs) were used in a coordinated action to target railway infrastructures in Germany in October 2011".
Dazu hatte die Bundesregierung bereits mitgeteilt, dass "im Zusammenhang mit den Brandanschlägen auf die Deutsche Bahn ab dem 10. Oktober 2011 im Raum Berlin und Brandenburg" (es grüßen isländische Vulkane) eine Funkzellenabfrage vorgenommen wurde.
Derartige Aktionen nehmen anscheinend zu: "Throughout 2011, left-wing/anarchist extremiststargeted rail facilities in Germany, Italy and Finland. Between 10 and 13 October 2011, a total of 18 improvised incendiary devices were discovered at nine railway locations in Germany. The attacks were claimed by a previously unknown group".
Die Cops haben Sorge, dass sich Solidarität und das Wissen um die Herstellung der Brandsätze grenzüberschreitend verbreitet: "The group justified the placement of the devices as a direct response to German military deployment in Afghanistan and the fact that the German railway system provides logistical support for the German army".
Auch zur zunehmenden Beobachtung des "No Border"-Netzwerks liefert der Bericht Neues: Demnach sei vor allem in Holland, übrigens dem Sitz Europols, eine Zunahme zu beobachten: "The number of incidents related to the so-called "No Border" campaign is relatively high in comparison to other ideological themes of left-wing/anarchist activism in the Netherlands".
Hausbesuche bei Verantwortlichen von internationalen Firmen gefallen Europol und den Polizeien der Mitgliedstaaten gar nicht: "A significant incident in the Netherlands was a home visit – a tactic frequently used by violent animal rights extremists – damaging the house of the CEO of a construction company.
Laut Europol seien die "Extremisten" mehrheitlich jung und "idealistisch". Dies sei auch der Grund dafür, dass zunehmend "violent left-wing and violent environmental extremist groups" miteinander kooperieren würden. Das soll zunehmen: Im Ausblick folgert Europol, "the increasing sensitivity in society to environmental issues may lead to an increase in violent actions by single-issue violent extremist groups".
Auch im Bereich der Migrationsolidarität wird derart vorgegangen: "Companies involved in the construction of detention centres for asylum seekers or prisons are preferred targets of anarchist extremists. Confrontations between anti-fascist groups and their right-wing opponents have hardened and become increasingly violent in recent years".
Weiter heisst es zur Repression: "A total of 42 persons were arrested in 2011 for left-wingand anarchist terrorist offences in 5 EU Member States: Denmark, Germany, Greece, Italy and Spain. As in 2010, when 34 arrested suspects were reported, most of the arrests occurred in Greece, Italy and Spain".
Die aufgezählten Länder sind identisch mit jenen, die der BKA-Chef Jörg Ziercke letztes Jahr als Hauptaktionsgebiet sogenannter "Euro-Anarchisten" bezeichnete: Diese "Europäisierung der Anarchoszene" vollziehe sich insbesondere in Griechenland, Spanien, Großbritannien, Frankreich, Dänemark und Deutschland. Besonders interessant: Eigentlich sollte Ziercke erklären, weshalb deutsche Cops vermehrt Spitzel mit anderen EU-Mitgliedstaaten tauschen. Konkret ging es in der Ausschusssitzung um den britischen Ex-Cop Mark Kennedy.
Laut Ziercke müssten Polizeien zukünftig "international und konspirativ" agieren. Die Spitzel würden deshalb gegen "Euro-Anarchisten, militante Linksextremisten und -terroristen" in Stellung gebracht.
So schließt sich der Kreis: Erstmals eingeführt wurde das Gespenst von "Euro-Anarchisten" als "Kartell europäischer Anarchistengruppen" vom damaligen italienischen Innenminister Guiseppe Pisanu 2003 zur Bezeichnung der "Federazione Anarchica Informale" (F.A.I.). Dass Europol sich jetzt der F.A.I. widmet, dürfte auch aus einer persönlichen Feindschaft erklärlich sein: Neben der EZB hatte auch Europol vor fast 10 Jahren ein explosives Päckchen erhalten.