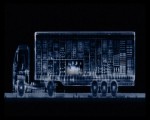 By Nikolaj Nielsen

Bulgaria has devoted vastly bigger resources than Germany to help Greece manage its irregular migrant problem.
An internal document sent by the Danish EU presidency to the EU Council in late April – and seen by EUobserver – outlines how individual member states participate in the so called Poseidon operation run by the EU's Warsaw-based border control agency, Frontex.
Poseidon was launched in early 2011 and brings together border guards from 23 member states and associated countries in the Schengen passport-free-travel agreement. Member states send their experts and equipment to assist Greek border guards either on a bilateral basis or as part of a larger operation co-ordinated by Frontex.
Among the revelations is the mixed nature of assistance from member state to member state. Some have bilateral agreements with Greece while others work only with Frontex or both. (more on euobserver.com)