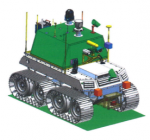 The final demonstration of the project results was held on 17-18 April 2012 in Wrocław, Poland, at the training ground owned by the Gen. Tadeusz Kościuszko Military Academy of Land Forces under the name 'TALOS Demo Day'.
The event was opened by the Reception Banquet in Barka Tumska Restaurant in Wrocław on the evening of 17 April 2012, where guests were welcomed by PIAP's General Director, dr Jan Jabłkowski.
On the second day, 18 April 2012, a live-in-field demonstration of the TALOS system capabilities and presentation of its subsystems was successfully performed. TALOS Project Coordinator dr Mariusz Andrzejczak was the host of the day, and Jakub Główka from PIAP was the event's manager.
A live operational scenario was used to present the functionalities of the TALOS technology demonstrator, which has been developed throughout the 4 years of project works. The real-time setting of an action was followed by the detailed presentations of the main TALOS subsystems during the technical session.
TALOS Demo Day gathered over 100 participants, with representatives of Border Guards from different European countries, public administration and research sector, business and media.
Among the honourable guests were newly appointed TALOS Project Officer Ms. Agnieszka Marciniak (REA), EC delegated Project Reviewers Mr. Gregorio Ameyugo Catalan (FRONTEX) and Mr. Uist Macdonald (Ceres Computers Consultants Ltd.), as well as FRONTEX Director of Capacity Building – Mr. Erik Berglund (chairman of the TALOS End User Advisory Board) and EC DG Enterprise and Industry representative Mr. Paolo Salieri (TALOS first Project Officer).
After the TALOS Demo Day event – on the 19 April 2012 – the last EUAB meeting/4th Workshop with end-users, followed by the Final Review meeting of the TALOS project were conducted.
The event has been awarded with the Honorary Patronage of the Polish Minister of Science and Higher Education prof. Barbara Kudrycka.
Source: http://talos-border.eu/index.php?option=com_content&view=article&id=93:talos-demo-day&catid=1:latest-news&Itemid=59