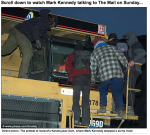 Rob Evans and Paul Lewis
A former police spy who infiltrated the environmental movement for seven years has been hired by a private security firm in the US to give advice on how to deal with political activists.

Mark Kennedy has become a consultant to the Densus Group, providing "investigative services, risk and threat assessments", according to an entry on his LinkedIn profile.
He says he has given lectures to firms and government bodies drawing on his experiences "as a covert operative working within extreme left political and animal rights groups throughout the UK, Europe and the US".
Kennedy, 42, went to live in Cleveland, Ohio, after he was unmasked by activists in late 2010. (more on guardian.co.uk)