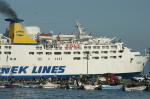 In the last few weeks, NCADC has been contacted by many people with removal directions for DR Congo, Nigeria and Ghana on a charter flight on 5 July.
This is a repeat of the recent 'multi-destination' mass deportations, a shameful strategy by UKBA that causes panic and distress in communities, and hampers the ability of lawyers, NGOs, campaigners and supporters to fight for people facing deportation.
These mass deportations are taking place despite grave human rights abuses in DRC, Nigeria and Ghana.  Evidence is mounting of "systematic violence and abuse" against people forcibly returned to DRC from the UK after losing their asylum claims.  Violence is escalating in Nigeria, and the US State Department report on human rights in Ghana raised concerns about excessive force by police, arbitrary arrest of journalists,  violence against women and children and ethnic killings and vigilante violence.
NCADC has been inundated by people contacting us in desperate need of help because they are facing imminent deportation and have protection and human rights grounds to stay in the UK. With just two members of staff and a handful of volunteers, we have simply been unable to cope with the number of calls and emails.
The use of charter flights severely restricts last-minute campaigning options, as individual airline campaigning is not an option. NCADC is working with others to co-ordinate action against deportation flights: both commercial flights and mass deportations on charter flights. In the meantime, we ask for your patience as we continue to advise and support campaign groups.
The need for cooperative and collaborative campaigning is greater than ever.
Source: email