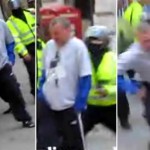 The trial of PC Simon Harwood, accused of killing G20 protestor Ian Tomlinson, hears from the policeman and his defence team.

The policeman accused of manslaughter at the G20 protest has told jurors the man he hit was deliberately obstructing him and his colleagues.
PC Simon Harwood claimed he struck newspaper seller Ian Tomlinson with his baton on the thigh "to cause maximum effect but minimum injury".
The officer said he then pushed the 47-year-old alcoholic "firmly" and was surprised when he fell over.
PC Harwood, 45, said he and his colleagues had been told to clear everyone away from a pedestrian area near the Bank of England where protesters had gathered during the G20 demonstration in April, 2009.
He told the court: "He was obstructing us and not allowing us to achieve our objective. (more on sky.com)