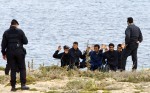 Warsaw, 27 September 2012 — At its 40th meeting today, the Frontex Management Board designated the Agency's first Fundamental Rights Officer and adopted working methods for the Consultative Forum on Fundamental Rights.

The Management Board designated Ms. Inmaculada Arnaez Fernandez as the Agency's first Fundamental Rights Officer. As mandated in the revised Frontex Regulation, the tasks of Fundamental Rights Officer include monitoring and reporting on a regular basis to the Consultative Forum, as well as to the Frontex Management Board and to the Executive Director of the Agency.
Ms. Arnaez is a lawyer from Spain, with fifteen years' experience in fundamental rights, humanitarian law and international relations. She has worked to strengthen the protection of fundamental rights of returnees and internally displaced persons, reform the judiciary and facilitate access to justice for victims of conflict in the Balkans and Latin America. Ms. Arnaez has held various posts in the United Nations Police Mission, United Nations Development Program, the Organisation for Security and Co-operation in Europe (OSCE), the Office of the High Representative, the Registry for the Court and Prosecutors Office of Bosnia and Herzegovina, and the Spanish Agency for International Co-Operation. Currently, she works on rule of law matters at the OSCE Office for Democratic Institutions and Human Rights.
Also during today's meeting, the Management Board adopted working methods and principles for the Consultative Forum, which regulate the internal procedures at a practical level.
The Consultative Forum is a new body to enable Frontex and its Management Board to inform and advise on the promotion and respect of Fundamental Rights in all Frontex activities. The Consultative Forum will complement the monitoring role of the Fundamental Rights Officer. It will hold its inaugural meeting in October.
In line with the revised Frontex Regulation, the Consultative Forum will comprise representatives of the European Asylum Support Office (EASO), Fundamental Rights Agency (FRA) and the UN Refugee Agency (UNHCR). The Council of Europe, International Organisation for Migration (IOM) and OSCE Office for Democratic Institutions and Human Rights were also selected.
In addition, the Civil Society Organisations making up the majority of the Forum include: Amnesty International European Institutions Office; Caritas Europa; Churches' Commission for Migrants in Europe; European Council for Refugees and Exiles; International Catholic Migration Commission; International Commission of Jurists; Jesuit Refugee Service; Platform for International Cooperation on Undocumented Migrants, and the Red Cross EU Office.
Source: email