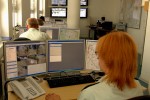 "In cooperation with Europol the Italian judicial authorities and the police authorities in Greece and Germany have successfully dismantled a major international criminal network involved in the smuggling of Iraqi and Kurdish migrants into the EU.
Operation Iskandar was started in 2008, under the coordination of the Anti-mafia District Prosecutor's Office in Trento, and has been conducted by Carabinieri Raggruppamento Operativo Speciale Carabinieri (ROS). The operation targeted a criminal group organising the transfer of migrants from the northern regions of Iraq toward several EU countries. Using the well-known Balkan route, the migrants passed through Syria, Iran and Turkey heading for Italy, Germany, Switzerland, France, the UK and Scandinavia.
During a coordinated action on 25 October 2012 three persons of Iraqi origin were arrested in Italy. Five persons of Iraqi origin were arrested in Greece in possession of false Italian documents and 500,000 euro, which was seized. More than 50 other persons of Iraqi origin, found on the premises during the operation, were questioned by the authorities in Germany, Greece and Italy.
The investigation established that the criminal organisation was responsible for the illegal immigration of more than 1,500 people. Financial investigations established that they earned around USD 12.5 million. Each of the migrants, after having paid the amount of about 8,000 euro to the representative of the cell active in Kurdistan, was sent to a base in Turkey before they were smuggled into Greece. From Greece the journey was continued to Italy, mainly by the use of motorboats and occasionally by air.
Europol supported the investigation from its operational coordination centre in The Hague and provided operational analysis to the affected Member States. During the action day a Europol employee with a mobile office was in Trento to support the operation. On-the-spot analysis of the information gathered by the authorities during the arrests and house searches revealed further new links associated with the criminal network."
Source: email