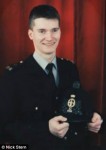 A police mistake in a response to a Freedom of Information request accidentally exposed an undercover operation to infiltrate a group of animal rights extremists.

The police force – which has not been named – released a report with sensitive information blacked out after a request under the Freedom of Information Act.
But when the report by the Office of Surveillance Commissioners (OSC) was copied and pasted into another document, the redactions disappeared and the sensitive information was revealed.
The Times newspaper reports that the document showed that a secret police unit that monitors domestic extremism is involved in the operation. (more on dailymail.co.uk)