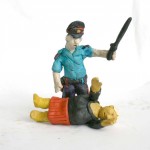 by Niall Couper
A study into the way austerity protests have been policed reveals a bleak picture of human rights in the EU that jars with the award of the Nobel Peace Prize, says Amnesty

Over the last couple of weeks, European Union leaders have been basking in the glow of their recent Nobel Peace Prize. There is some credence to the award – since its formation after the Second World War the EU has made notable progress on human rights across the continent and promoted peace and democracy, as the Nobel committee noted.
Yet just two weeks on, Amnesty International has revealed a staggering hypocrisy that perhaps the award-givers should have taken into consideration. A new hard-hitting briefing on the policing of austerity protests in the EU paints a very bleak picture of human rights in the continent.
Concentrating on Greece, Romania and Spain, it shows how protesters have been beaten and kicked, sprayed with tear gas, and shot at and wounded with rubber bullets by police officers. The abuses have gone un-investigated and unpunished – hardly the behaviour of an organisation worthy of winning the Nobel. If the EU truly wants to justify its award then it needs to get to grips with its police services.
There is no doubt that this is a testing time. As austerity measures begin to hit hard over the forthcoming months, we will see more protests. The EU needs to step up to the mark and ensure the way these demonstrations are policed does not lead to a new wave of violence. Yes, the police are responsible for public safety and law and order. However, they must also ensure that everyone within their territories can enjoy the right to peaceful assembly.
To help, we have produced a list of dos and don'ts for Europe's police services. We believe that governments must spell out and reiterate that police officers may use force only when strictly necessary. They must introduce strict guidelines on the use of potentially lethal riot control devices such as pepper spray and tear gas, water cannon and rubber bullets. And all complaints into police brutality must be properly investigated and those responsible held to account.
However, it is not just innocent protesters who have been attacked by the police. Journalists and photographers have also been victims. Paloma, a journalist covering the miners' demonstration in Madrid in July, was hit by a rubber bullet as police were trying to disperse the largely peaceful demonstration. Last year, she was beaten by a police officer with a baton during a demonstration against the Pope's visit in Madrid. She filed a complaint but the case was closed as the perpetrator could not be identified.
Photographer Manolis Kypreos suffered total loss of hearing in both ears after police threw a stun grenade at him while he was covering a demonstration in Athens in June 2011. In August this year police used tear gas and fired rubber bullets and other impact rounds at peaceful protesters opposing gold mining operations in northern Greece.
The police – often the most visible arm of the state – do have to walk a fine line between protecting the right to freedom of assembly and maintaining public order. But if the EU's member states can take on board our recommendations then as an organisation perhaps they can begin to truly justify their Nobel Peace Prize.
Niall Couper is a press officer at Amnesty International
Source: http://www.publicserviceeurope.com/article/2635/hypocrisy-of-police-violence-in-nobel-winning-eu