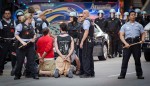 Lawyers Deny Group Was Plotting To Make Molotov Cocktails, Only Beer
As dignitaries arrive for the NATO Summit in Chicago, protesters and police are making news for an arrest controversy earlier this week in Bridgeport.
For the first time, as CBS 2's Pam Zekman reports, one of the nine protesters scooped up by police in a controversial raid says he was mistreated and his civil rights violated.
Darrin Annussek says he walked to Chicago from Philadelphia to participate in Occupy protests, only to be seized by police in a raid on an apartment at 32nd and Morgan.
"For 18 hours, we were handcuffed to a bench and our legs were shackled together," he said. "Some of our cries for the bathroom were either ignored or met with silence." (more on chicago.cbslocal.com)