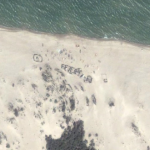 e-GEOS has been named Earth Observation Operator of the Year 2011 by Euroconsult, the leading global research and analyst firm specializing in the satellite sector. The award was presented to Marcello Maranesi, e-GEOS' Chief Executive Officer, at the 4th Symposium on Earth Observation, held on September 13-14 in Paris.
The awards are based on a performance analysis of the market players and assessed by a jury of experts from Euroconsult. As part of the awards process, the jury uses a stringent set of criteria including both quantitative evaluations (financial performance indicators such as revenue, revenue growth) and qualitative assessments (including innovation, strategic decisions related to infrastructure, commercial strategy and partnerships and their impact.).
The Euroconsult award reflects the outstanding service and commitment of the employees of e-GEOS and its German subsidiary GAF.
e-GEOS was established for the worldwide commercialization of data and applications of the COSMO-SkyMed system, a radar satellite constellation financed by the Italian Space Agency and the Italian Ministry of Defense. e-GEOS has inherited Telespazio's 35-year expertise and knohow in Earth Observation, as well as acquiring Eurimage's commercial capabilities.
Today e-GEOS, together with its subsidiary GAF, is a leader in Europe for services provided to the GMES (Global Monitoring for Environment and Security) Programme; particularly for maritime surveillance, emergency response, land mapping and for the acquisition and processing of Sentinel satellites data. All this is made possible by a growth strategy which has prioritized investments for the development of applications and services.
For the future, e-GEOS is working closely with the Italian Space Agency and Telespazio on the development of the COSMO-SkyMed Second Generation, a constellation that in a few years will provide advanced application solutions in support of integrated telecommunications services, satellite navigation, and Earth Observation.
Euroconsult press release
e-GEOS, an Italian Space Agency (20%) and Telespazio (80%) company, is a leading international player in the geo-spatial business. e-GEOS offers a range of products and services in the Earth Observation and in the geo-spatial application domains, based on both optical and radar satellites as well as on aerial surveys.
e-GEOS operates its Earth Observation centres in Matera and Neustrelitz, where data from multiple satellites are received and processed, also for near-real-time monitoring
Source: http://earsc.org/news/e-geos-named-earth-observation-operator-of-the-year-