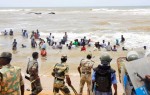 Indian riot police fired tear gas to break up thousands of protesters on a beach near the country's largest nuclear power project, due to fire up within weeks despite months of opposition.

Demonstrators waded into the crashing waves or escaped in fishing boats as hundreds of police advanced, television images showed. Rocks were thrown at police and several injuries were reported on both sides.
Some 4 000 activists, mainly women and children from fishing villages, had camped on the beach about a mile from the Kudankulam power station to complain about the threat of radiation from the plant near the southern tip of India.
First conceived in 1988, the Russian-built plant was supposed to have gone into operation last year, but protesters surrounded the compound after an earthquake and tsunami destroyed Japan's Fukushima Daiichi nuclear plant, spewing radiation and forcing mass evacuations.
They fear a similar accident in a region that was hard hit by the 2004 Indian Ocean tsunami.
Last month, the government's Atomic Energy Regulatory Board gave clearance for fuel to be loaded into one of the plant's two reactors, one of the last steps before producing power.
Kudankulam will provide 2 gigawatts of electricity — enough to power millions of Indian homes and relieve a power crisis in the state of Tamil Nadu. Further reactors are planned.
India suffers from a peak-hour power deficit of about 12%, slowing the economy. A grid failure on two consecutive days this summer caused perhaps the world's largest-ever blackouts.
India is committed to raising power capacity mainly through coal over the next five years, but environmental concerns and mismanagement have slowed growth in that sector as well.
Coal now accounts for 60% of India's energy use.
India plans to add 63 gigawatts of nuclear power by building 30 reactors by 2032. Nuclear accounts for less than 3% of total capacity, and protests have slowed progress at other projects.
Source: http://www.timeslive.co.za/scitech/2012/09/10/indian-riot-cops-drive-nuclear-protesters-into-the-sea