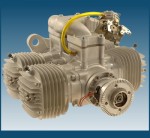 By Nikolaj Nielsen
A German-based firm has said that some of its engines may have been used for Belarus spy drones despite EU sanctions.

The company, 3W Modellmotoren in Rodermark in southwest Germany, which makes stroke engines for small airplanes, told EUobserver on Monday (10 September) that dealers might have sold some of its technology for use in unmanned aerial vehicles (UAVs) belonging to Belarus' interior ministry.
"You know it could very well be that they [Belarus] got engines from one of our dealers around the world. You never know what they [dealers] do," 3W Modellmotoren managing director, Peter Wintrich, said.
He explained the firm does not sell to Belarus directly, but noted that his company has "no control" over resellers. The firm has dealers in 43 countries, three of them based in Russia.
"You can use any of our engines for UAVs," he noted. (more on euobserver.com)