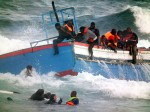 The Italian government is renegotiating its arrangement on immigration with the new Libyan government, according to Foreign Affairs Minister Giulio Terzi.

Speaking at a press conference in Malta yesterday Mr Terzi said Italy had started fresh negotiations with the transitional government after the fall of Muammar Gaddafi last year.
In 2009 the Italian government, then led by Silvio Berlusconi, had reached an agreement with the Libyan regime by which the Italian side would automatically send back to Libya immigrants rescued at sea without giving them the opportunity to claim protection under international law.
The practice was declared illegal by the European Court of Human Rights in a landmark judgment last February, which ruled that Italy broke the human rights of Somali and Eritrean nationals rescued at sea in when they were immediately taken back to Libya as part of a controversial bilateral agreement. (more on timesofmalta.com)