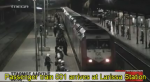 The numbers of migrants crossing the Greek-Turkish land border dropped from over 2000 a week in the first week of August to little over 200 in the second week. This is the direct effect of increased surveillance and patrolling activities by the Greek authorities, which included the deployment of an additional 1800 officers along the Evros river at the beginning of August.
In September, detections dropped even further from around 70 a week at the beginning of the month to below 30 in the second half. As crossing the border in the Evros region has become more difficult, the number of nationalities attempting to cross has also dropped, from over 60 to fewer than ten with the majority of migrants now coming from Iraq, Syria and Eritrea. As expected, some displacement effect has already taken place along the South Eastern border, with increasing numbers of migrants arriving mainly in the Greek Aegean Islands of Samos, Symi, Lesvos and Farmaconisi, as well as in Bulgaria. At the sea border with Turkey, weekly detection rates grew from around six in July to approximately 180 in August and September. In response to the growing migratory pressure in the Eastern Aegean Frontex has strengthen Joint Operation (JO) Poseidon Sea with additional air and maritime surveillance assets.
At the land border between Turkey and Bulgaria the numbers of illegal border crossing have also risen since August and vary between 40 and 70 a week. Frontex JO Poseidon Land at this border is ongoing and supports the Bulgarian authorities with the screening and debriefing of irregular migrants.
The number of Syrians arriving in an irregular way in Europe via Turkey has also been growing steadily since the beginning of the year with a dramatic increase in July when up to 800 Syrians were crossing the Greek-Turkish land border every week. Currently Syrians still constitute a significant percentage of all migrants arriving in Greece. For example since 1 August out of over 1300 migrants who arrived in the Aegean islands nearly 30% were Syrian nationals.
Although increasing numbers of illegal border crossing are detected at the sea border and in Bulgaria the total number of migrants is still quite low in comparison with numbers detected in the Evros region before additional resources were deployed there. Since the beginning of the year, over 30 000 migrants have been detected in the Evros region alone. It is believed that a significant number of persons are still awaiting passage in Turkey. Those who are now reluctant to cross the Greek-Turkish land border are considered likely to try to cross other sections of EU external borders.
Source: http://www.frontex.europa.eu/news/situational-update-migratory-situation-at-the-greek-turkish-border-HATxN9