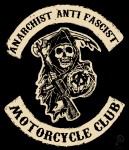 As of June 2012 the far right/neo-Nazi party Golden Dawn is officially represented in the Greek Parliament with support from the local media. As we have seen throughout history, in times of "economic" crisis, far-right ideologies tend to increase their influence dramatically.
The number of attacks on immigrants is rising every week, fuelled by the police's complicitly apathetic stance and refusal to do anything to stop the perpetrators. This has led to a need for anti-racist patrols, as it is the only way of protecting immigrants from racist violence.
On the nights of the 15th and 22nd of September, the first two antifascist motorcycle patrols took place, with fly-posting and protest chants against neo-Nazi attacks. A third motorcycle demo passed through down-town locations on the evening of Sunday, September 30th, where it encountered a group of neo-Nazis smashing up immigrants' shops. The antifa successfully attacked and stopped them, and were themselves attacked in retaliation by several motorcycle police units.
IMPORTANT! (my emphasis)
The antifascists are not allowed to exit the country and they are obliged to attend the police department every 15 days.
There is a need to raise the amount of 45.000 € for legal costs and bails.
For all those that want to contribute in collecting these amounts, there is a box at the K*VOX squat, in Exarchia Square in Athens. Since it is not possible for many people to go there, we have set up a separate PayPal account under the email address SupportAntifa@OmniaTV.com. The whole amount collected there will be handed over to K*VOX.
The fascist joke must end, no comment will be allowed from monsters for our own mental health. Please do not reply to any kind of silly comments or else your comment will be deleted as well.
Article in english and greek
AntifAlice in Monsterland: http://eagainst.com/?p=43979
Αντιφασίστες στη χώρα των τεράτων: http://eagainst.com/?p=43971
Source: http://submedia.tv/stimulator/2012/10/26/athens-anarchist-anti-fascist-motorcycle-club/