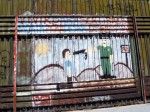 GLOBAL DAY OF ACTION FOR THE RIGHTS OF MIGRANTS, REFUGEES AND DISPLACED PEOPLE
Der Global Day of Action for the Rights of Migrants, Refugees and Displaced People, der am 18.11.2011 zum ersten Mal stattfand, wird auch dieses Jahr wieder in über 20 Ländern verwirklicht- als ein gemeinsamer Aktionstag von Migrant_innen und Aktivist_innen die sie unterstützen.
Es gilt diesen Tag zu einem gemeinsamen weltumspannenden Ereignis zu machen, an dem die Ideen und Initiativen verschiedenster Organisationen und Netzwerke zum Schutz der Rechte von Migrant_innen in einen gemeinsamen Aktionstag zusammenlaufen.
Unter dem Motto WE MIGRATE TO LIVE: NO MORE DEATHS, NO MORE MISSING PEOPLE am18.12.2012, werden dieses Jahr wieder überall auf der Welt Aktionen stattfinden um diese Rechte einzufordern.
Der Treffpunkt der Berliner Kundgebung: Washingtonplatz am Hauptbahnhof.
Beginn: 17.00 Uhr
Mit
Theater
Akustischer Livemusik: Lebenslaute
Redebeiträgen von:
Refugee Protest Camp am Oranienplatz – http://refugeetentaction.net
Boats4People – http://www.boats4people.org
Bündnis gegen Rassismus – http://buendnisgegenrassismus.org
FelS – http://fels.nadir.org
Roma Center Göttingen – http://www.roma-center.de
Unterstützung durch: alle bleiben – http://www.alle-bleiben.info
Kommt zahlreich und helft uns ein Zeichen zu setzen!!!
Mehr Infos: http://globalmigrantsaction.org