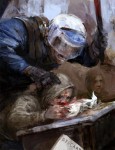 With the support of Europol, 16 operations against facilitated illegal immigration networks have been carried out by Austrian and Hungary authorities in the last 14 months, and 439 facilitators have been arrested.
In September 2011 Austria and Hungary launched a joint reponse to the significant increase of illegal immigration into their countries by establishing Project FIMATHU (Facilitated Illegal Immigration Affecting Austria and Hungary). As a result, 7249 illegal migrants were apprehended and 891 smuggling incidents were identified in total in the two countries. The illegal migrants were mainly smuggled via Serbia to Hungary. Once on Hungarian soil they were smuggled onwards in mini-buses or vans to Vienna, often hidden in concealed compartments.
Within Project FIMATHU all relevant criminal intelligence was shared with Europol, including data extracted from over 500 mobile phones that had been seized. Europol has been processing and analysing the data to find interesting links between Austria, Hungary and the source and transit countries, to identify the criminal networks organising the illegal immigration.
The successful results have meant that interest in the project has grown to the extent that 10 new countries have joined, namely: Bulgaria; Croatia; Czech Republic; Germany; Poland; Romania; Serbia; Slovakia, Slovenia and Switzerland. The common aim is to dismantle the illegal immigration networks operating via the Western Balkans as well as in other European countries.
Europol's support to the project is integrated in the EU Operational Action Plan on Immigration which has been prepared to meet the strategic goal: "To use the intelligence picture and risk analysis for more effective and cost-efficient border control, investigation and prosecution at the external borders and within EU territory".
Source: email