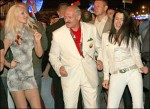 Belarusian police have hacked thousands of opposition group members' social network accounts and detained the moderators of the groups' online pages, demanding that they turn over the passwords to the pages.

The groups dubbed "We are tired of this Lukashenko," which claims 37,000 members, and "Only ShOS," which claims over 15,000 members, were hacked, the Charter 97 opposition website reported. (ShOS is an abbreviation translating roughly to "wish he were dead.")
The groups were registered on the Russian social network Vkontakte ('in contact') – a popular Facebook clone. Police also targeted a group dedicated to the upcoming concert of popular rock band Lyapis Trubetskoi, which has recently assailed Belarusian President Lukashenko and other authorities in their songs.
The State Security Service (KGB) detained several people administrating the communities and delivered them to a district court in the capital of Minsk.
The mother of one of the detained activists claimed that KGB officers initially refused to identify themselves or show a warrant, but later complied. She claimed that as her son was taken away, the agents demanded that he disclose the passwords for the groups that he was running.
"The officers were constantly talking to each other, and from their conversation I understood that they were arresting people all over Minsk. I heard that they apprehended someone and planned to detain someone else," Charter 97 quoted the woman as saying.
One of the moderators, who evaded authorities because he was not staying at the place he listed as his residence, claimed that his apartment was searched in his absence.
Belarusian authorities have cracked down on political opposition over the last two years. Activists alleged that the country's December 2010 presidential elections were undemocratic, and should therefore be declared invalid. Opposition rallies on the day of the election ended in violence and the mass detention of many activists, including several former presidential candidates. Many of the arrested received prison sentences, while other opposition politicians were forced to flee the country.
Around a year ago, the Lukashenko administration outlawed all forms of protest, and gave the KGB the power to conduct searches and arrests without warrants on suspicions of political dissent.
Source: https://rt.com/politics/services-opposition-groups-social-952/