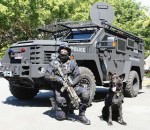 Damon Guppy

BOMB-sweepers, counter-terrorism operatives and police commandos will begin training in the region in preparation for Cairns' most demanding security operation.

A day after the city was announced as the host of the G20 finance ministers' meeting in 2014, authorities have started planning the event's security.
About 2000 people, including delegates from the world's leading economies, will converge on the city for the meeting, which will be held ahead of the main G20 summit in Brisbane.
The deployment of the National Counter-Terrorism Committee's $400,000 BearCat armoured vehicle was the strongest indication that Cairns was in line to secure the high-level event.
"It has certainly given us new capacity," Far Northern Region Police Chief Supt Katarina Carroll said.
"This type of machine is obviously perfectly built for this type of activity (G20 security)."
She said security plans were already being put in place.
"There will be hundreds of police from around the state, including specialist teams from Brisbane, supporting us," Chief Supt Carroll said.
"There'll be an extraordinary amount of planning and training."
The bulk of the G20 security operation will centre around Brisbane, where up to 7000 police officers and soldiers, riot specialists, roof-top snipers, fighter jets and specialist divers will protect international dignitaries including presidents and prime ministers.
Protesters are expected to turn out in their thousands and while most demonstrations are peaceful, authorities are mindful of rogue activists.
At the 2010 G20 summit in Toronto, about 1000 people were arrested during week-long protests.
Counter-terrorism police will carry out security sweeps of key locations in Cairns.
"We'll be doing bomb searches," Chief Supt Carroll said. "We'll have specialist support for our operation."
She said the city's police service was well placed to implement high-level security and protection details following events in Cairns such as the Asia-Pacific Economic Co-operation in 2007, regional state parliament sittings in Cairns in 2008 and the Pacific Island Forum in 2009.
Source: http://www.cairns.com.au/article/2012/08/07/231809_local-news.html